Abandoned Places – US Hwy 395 (Part 1)
Like I said in previous posts, I was extremely busy this summer exploring and photographing places new and old. Normally I don't like going back to old sites as I prefer to keep the image of the place locked from the first visit. On this trip, my partner and I visited 4 locations on and close to US Highway 395 in the western Mojave Desert.
1. The Hawes Communications Bunker (Visit
#4
because she wanted to see it);
2. The Atolia Tungsten Mines (4 miles square – 100+ mine openings);
3. Randsburg, CA (A Class C "living" ghost town – 300 houses, 78 residents);
4. XXXXX Minimum Security Federal Prison Camp (This required two visits)
These aren't noted in our actual order of travel but it makes for a slight smoother narration. Without exception, all of these are dangerous and fairly sensitive sites. They also made for one of the most exciting abandoned site hunts I've ever gone on.
First Stop – Hawes AF Communications Site ("The Bunker")
This was a essentially see if anything had changed and to get the creative juices flowing. Because my companion and I had been there before, the number of photos taken were very limited.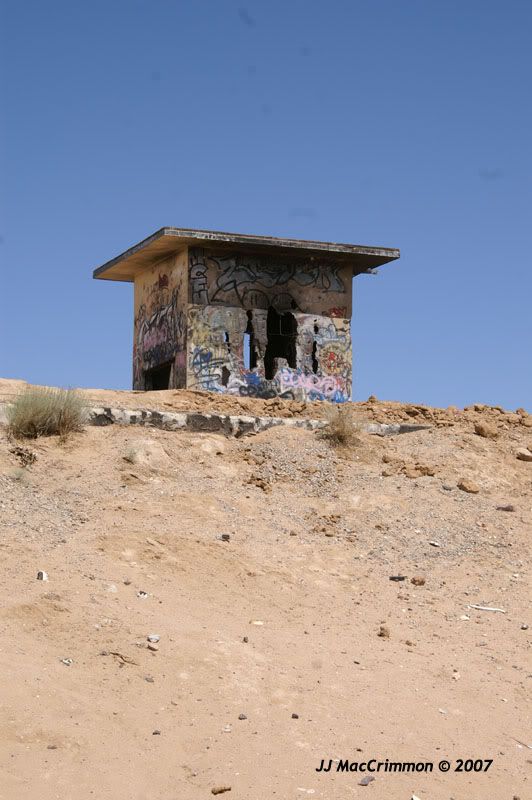 I love how the light filters into the depths of this ruin
We didn't spend much time here, but I had to get a shot of the graffiti. The 'mouth' was once a ventilation duct opening to another chamber.
This is merely a tease. Tomorrow, the real photo set starts, with images from the Atolia Mining district.
Felicia P.S.
Anyone looking for Felicia related photos in my personal LJ or here, will notice the links have been cut. I've been continuing to reorganize my Photobucket account to better manage the thousands of images there. I will make a set of archival posts which will include slide shows and commentary from the various visits.
Comments {9}