Seletar was the location of British Far East Royal Air Force base in Singapore during the 1920s. There are many single and double levels houses in this area for the staffs and officers working there.

However, due to expansions and modern projects taken place , the Seletar Aerospace Hub, many of these houses need to be torn down.

" The School of Logistics and 2 houses at Hyde Park Gate will be removed to make space for part of the 'runway dependent' zone. 12 other houses st Hyde Park Gate will be demolished to accommodate a broader skirting for the runway. Incidentally, these houses are built on an elevation some 10 m higher than the existing runway. Much of Hamilton Place, Old Birdcage Walk and Baker Street will form part of the 'commercial, recreational, F&B' zone. The Oval, and some of Hyde Park Gate will make up the 'institutional' zone. Houses along Haymarket and Swallow Street will disappear to form the South side of 'runway dependent' zone. The Seletar Airbase Golf Club House, part of 3 Park Lane and 1 Hyde Park Gate will need to be removed to make way for the 6-lane motorway that will be running through the Aerospace Hub Park.

source : http://postcardsfromseletar.com and http://www.sedb.com/edb/sg/en_uk/ind...erospace0.html "

Here are my photos of one of the houses.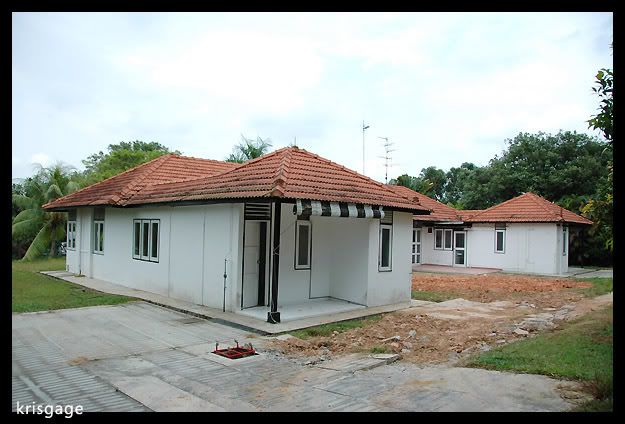 Complete entries : http://krisgage.livejournal.com