......the San Zhr pod village in Taiwan.

Accounts vary on the origins of this complex, and indeed, as to whether it was meant to be a hotel development or a housing development. The most widely heard version says it was constructed in the 1960s and included/was to include a dam to protect it against sea surges, floors and stairs made of marble and a small amusement park. The site was commissioned by the government and local firms and there is no named architect. Local papers at the time reported that there were numerous accidents during construction which caused the death of some workers. As news of these accidents spread, no one wanted to go there, even to visit, and the project was subsequently abandoned. The ghosts of those who died in vain are said to still linger there, unremembered and unable to pass on. The complex was left in its unfinished state because no amount of redevelopment will bring people to the area due to superstitions about ghosts, and it can't be demolished because destroying the homes of spirits and lost souls is taboo in Asian culture.

Another version states that the owner went ahead with the development piror to city halls official approval and because approval was rejected he could not run as a hotel and get a business license. He stubbornly closed the doors to the project instead of fighting for approval. The relationship with ghosts and spirits is due to vagrants having used it as a place for living and in some cases as a place to commit rape and or murder of young victims. The building on the right was supposed to be shops and offices and the pods an upscale hotel resort.

And the third says that this project was built with the huge amount of money made on the Taipei stock exchange during the 80s but after a crack on the market, the promotor ran away and no money was left for the project. Nobody was willing to reinvest since it was too nearby the seas... and then the ghost stories and the climate made their own contributions to the site.

Enjoy!!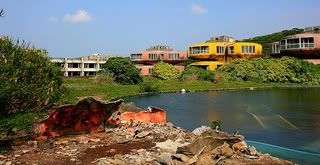 (
More under the cut....!!
Collapse
)
(
And even more under this cut.....!!
Collapse
)