Hello,

I have been following this community for awhile and finally made a LiveJournal account today, I am looking to finding more places to explore. I have found some remains of multiple ghost towns up by Big Bear and Lytle Creek area. Following local legends, mining claims, treasure legends really helps me. If anyone knows of any places in the High Desert (Victor Valley) Area I'd love to hear about them.

I enjoy exploring abandoned places for three reasons, one is history. Going to a place where people once were, where memories happened, where there are stories to be told.

The second is treasure hunting, I metal detect around the properties I find (with permission, if applicable) digging up history is something I thoroughly enjoy, holding something someone else held 50-100 years ago, wondering how it came to be buried in the ground and why its there is something I like. it could be anything from a cash box with the name Miss Minnie Blessie engraved on it with a can of Prince Alberts Tobacco with pennies and arrowheads in it, old bottles, silverware I love finding all of it.

The 3rd and final is research, mapping out what was where, finding the little bits of information, legends, historical figures, compiling stories from people that lived there. All the research to me is just as much fun as the hunt its self. Every place has a story to tell, and I enjoy the hunt. >:)


Here are some of my nicer finds over the years: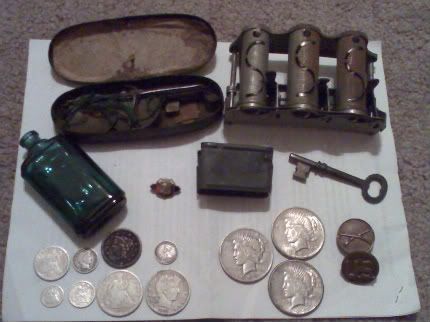 Starting at the upper left, California Gold Rush era miners gold scale with tin and weights. Found about 6 inches down in the right corner of a foundation of a miners shack in Lytle Creek. Post WWII Belt Mounted Money Changer found in a drive in theater in outer LA county. One of a about 50 something skeleton keys. One of the nicer WWII enbloc clips for an M1 Garand rifle found out in the desert at site of where Camp Young used to be. An FDR Campaign pin made with enamel and brass (one of my favorites) found in the back yard of a house built in 1941. Green Glass bottle found in a out house dump in Big Bear. Coins ranging from 1843 to 1935. Seated Liberty Half Dime (lower left hand corner) the 1849 large cent ( the large copper coin nearest to the green bottle) were found wrapped in wax paper in the foundation of what research says was a bawdy house in Mariposa, CA. These are my favorite most memorable coins, I have a a something like 450 more in albums. All modern money I find I roll and take to the bank. And the 2 disks in the lower right corner are WWI and WWII Uniform Collar insignia.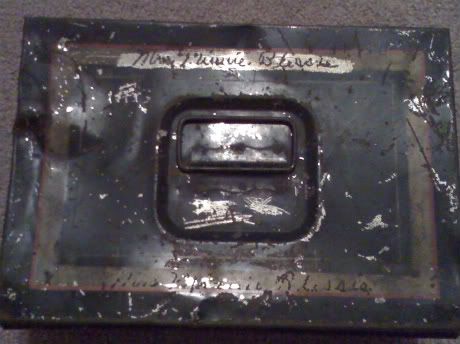 Miss Minnie Blessies Cash box, dug up in my Aunts back yard. Found by me by accident when I was 8-9.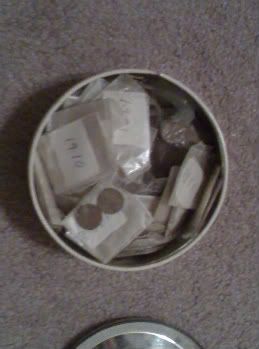 Rather large and heavy penny collection in a candy, found in 2007 under a tree about 9 inches deep in the back yard of an abandoned house in Orange, CA. Full of wheat pennies of all years over 200 coins in all!