x-posted to personal journal and
creepgirlfrenzy
Since 1919, the KD Station has been a shining icon in the cattle processing town of Sioux
icide
City, Iowa. In 1949 an explosion inside the meat packing plant killed several people and thus the haunting stories began. When the plant shut down and the building later reopened with shops and restaurants, the stories got worse. Most of it stemmed from the place itself, not the spirits floating around the place.
Consider a dank building with only a handful of windows on the top floors and a labyrinth of cold, dirty corridors buzzing and scarcely lit with industrial lamps. The elevators were so decrepit they were always threatening to commit suicide and take the passengers with. The full suits of armor peering at you from a caged hallway never put one at ease, either. I never saw any of the rumored ghosts, though a couple people have told me about seeing White Tuxedo Man outside the costume shop. However, I nearly had a coronary when I rounded a corner and came face to face with my reflection in the enormous mirror I wasn't even aware of.
Over the years the building has hosted restaurants, night clubs, music shops, a beauty salon, a butcher, clothing stores, an archery shop, an arcade, and a dinosaur exhibit. In 2004 the building was condemned when a generator in the bowling alley burst into flames. Just before this, some friends and I got a chance to go on the closed off floors with a video camera. If the areas open to the public were considered dirty, the restricted was absolutely filthy. The beams on the third floor had completely caved in certain rooms and the minigolf course was riddled with mold. An army of dusty clowns had been stockpiled in a janitor's closet, though no one ever bothered to move the 6-foot grinding wheels even on the public floors. Most of the meathooks had been cleared out.
Most
of them. Sadly I have no way to upload clips from the video to the internet so as to illustrate the inside of the building. In 2006 little bastard children set another fire and the city made the decision to demolish it. It's finally happening.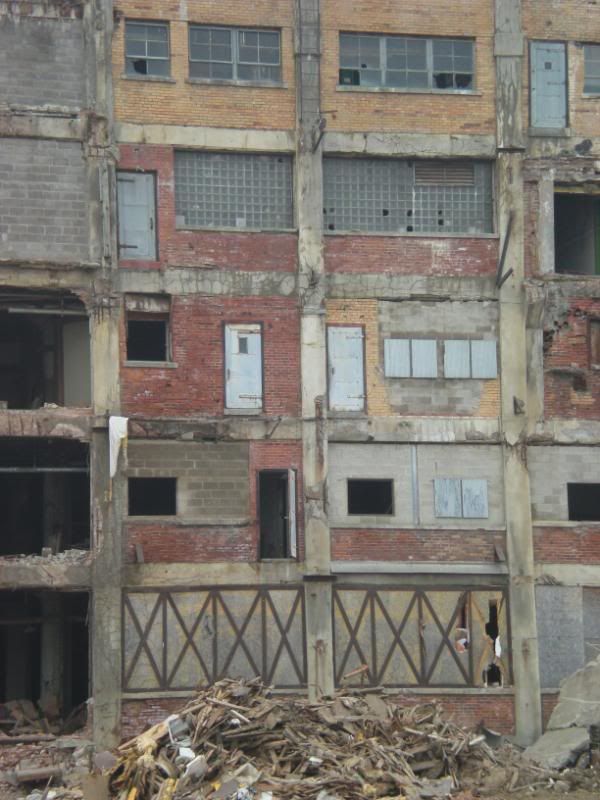 (
Collapse
)