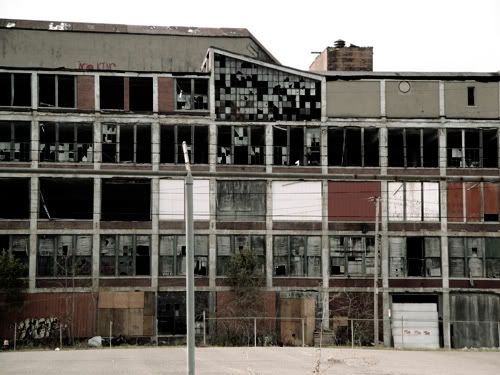 Designed by Albert Kahn (One of the most famous architects to practice in Detroit. He was the top industrial architect of his time) and built on almost 40 acres, the Packard Plant was one of the largest and most advanced automotive factories in the world when it opened in 1903. Eleven-thousand workers used to build cars there. When Robert Pershing Wadlow was breaching seven feet, the Packard was the best-selling luxury car in America, outselling Cadillac, Lincoln, Peerless and Pierce-Arrow combined. (
Source: The Night Train
)
The Packard plant was considered the most modern automobile manufacturing facility in the world with skilled craftsmen who practiced over eighty trades. The factory closed in 1958, however, but the buildings remain standing as of 2010, and the city has pledged legal action to have it demolished or secured.
This place is huge.. The 3,500,000-square-foot (325,000 m2) plant is located on over 35 acres (0.142 km2) of land on East Grand Boulevard. It included the first use of reinforced concrete for industrial construction in Detroit.
(
Collapse
)
I never saw any "No Trespassing" signs, so I might just pop in for another visit in the future.