St. Paul's School for boys was built in 1879. It Originally built as an all-boys college preparatory and science boarding school. "The building mirrors a Victorian Gothic design.In 1897, the headmaster, Frederick Luther Gamage, decided that the aim of the school was to "develop manly, Christian character, a strong physique, and the power to think."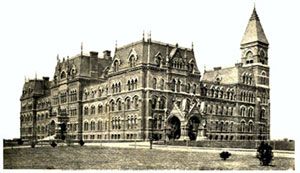 An to the Long Island counties describes it with "elaborate cast-iron balustrades, poly-chromatic voussoir arched windows,and Dorchester stone trim." Inside, the building is elaborate Minton floor tiles, extensive wood paneling, and magnificent stained glass windows located in the two-story chapel.

In 1991, the St. Paul's School was closed

I couldn't find much history on this place.

I would have loved to explore it but from what I am told the building has alarm systems.