Abandonment can be involuntary too...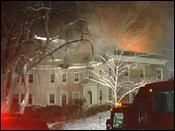 Wednesday night this mansion, located in south Minneapolis, was totalled by fire. Fortunately it was empty and nobody was hurt. Built in 1922, it was located on a popular lake and was listed for sale at $2.5 million. The fire was ruled to be accidental today.

A good story on the fire, complete with video clips is here while a real estate listing of the home can be seen here.