i've been meaning to post these pictures in this community for a while.
in danbury, is terrywhile park that contains a historic mansion that has been restored for wedding events and such and the surrounding grounds as well... however, the lesser attraction of the grounds is the usually unmentioned hearthstone castle, which was a functional residence up until 1985, and lies right on one of the parks trails..
i have some more photos on my other computer that i will upload when i get them.
if you ever find yourself in fairfield county ct, and can make it to see this castle, you should definetly do it. it is supposidly haunted, i've had some interesting things happen there.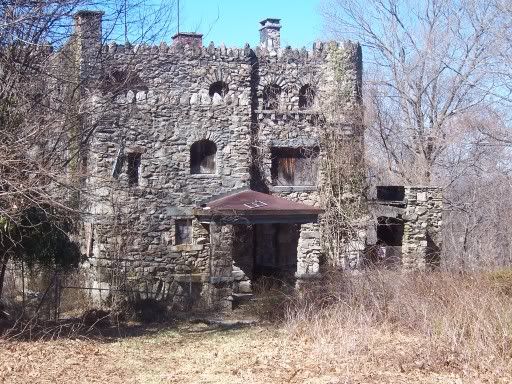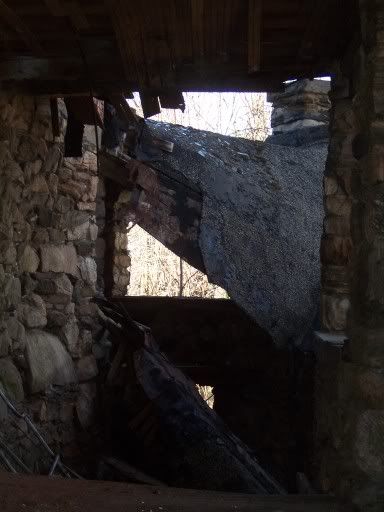 the roof on the porch caves in about 1/2 way around the entire porch around and has taken the porch floor with it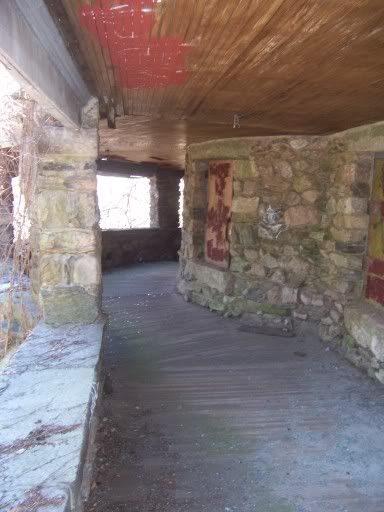 one of the few sections that aren't caved in...what keeps you from actually walking out onto the porch is a few things..1. to the left of the picture is a 20 foot straight drop off. 2. behind you the porch is caving in and the wood it rotting..3 all of the windows on the intact part are strongly nailed shut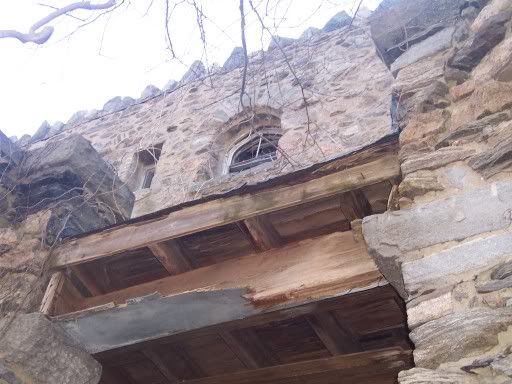 above one of the porch entrances...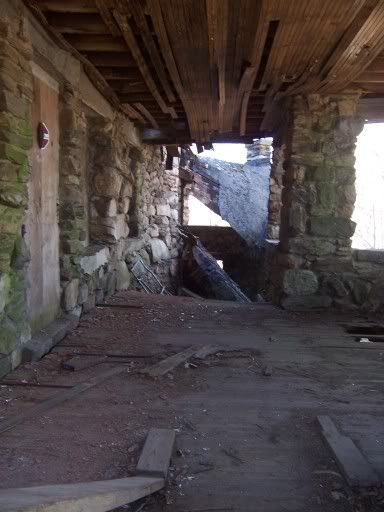 in the foreground of the picture, there is a 5 foot barrier that keeps you from walking onto the porch, i put my hands over it to take the photo..
one day last may my boyfriend and i were sitting on the granite steps that are at the base of the barrier. we hadnt seen anyone up there that day..all of a sudden we heard a little girl laugh and giggle and push around what sounded like a toy on wheels and then run about 1500 feet...we looked over the barrier and that's exactly what we saw..a bunch of people i have talked to have heard this little girl too.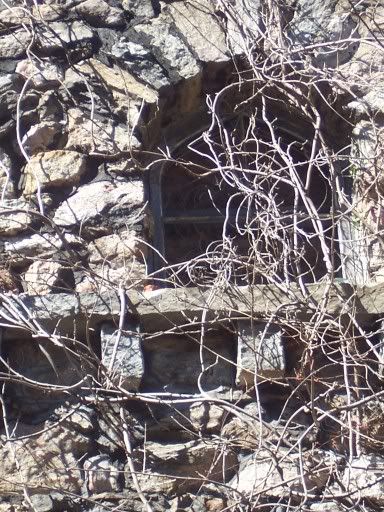 </p>


on the 3rd floor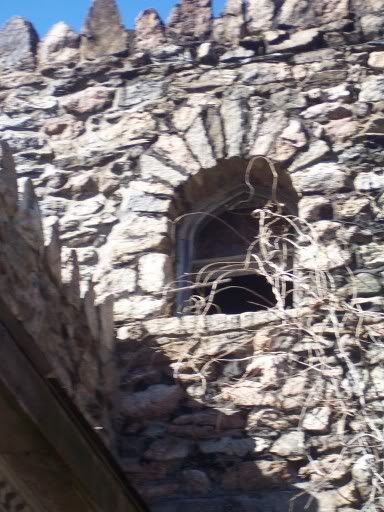 2nd floor over front entrance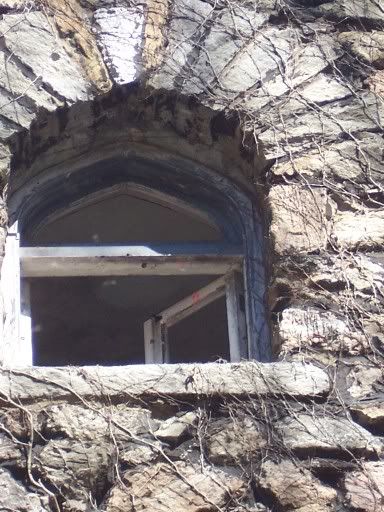 </div>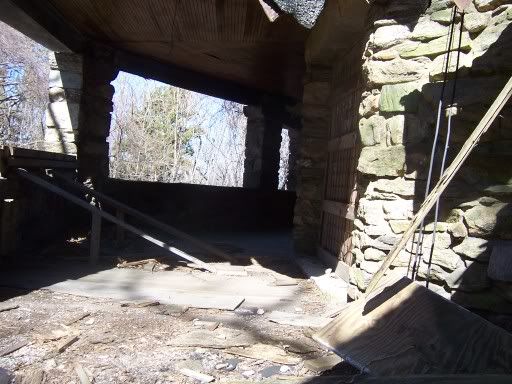 </div>

[

Error:

Irreparable invalid markup ('<align="center">') in entry. Owner must fix manually. Raw contents below.]

<p align="center">i've been meaning to post these pictures in this community for a while. <br />in danbury, is terrywhile park that contains a historic mansion that has been restored for wedding events and such and the surrounding grounds as well... however, the lesser attraction of the grounds is the usually unmentioned hearthstone castle, which was a functional residence up until 1985, and lies right on one of the parks trails.. <br />i have some more photos on my other computer that i will upload when i get them. <br />if you ever find yourself in fairfield county ct, and can make it to see this castle, you should definetly do it. it is supposidly haunted, i've had some interesting things happen there. <br /></p><p align="center"><img style="WIDTH: 634px; HEIGHT: 475px" height="225" alt="" width="300" src="http://img.photobucket.com/albums/v687/mykittieismybestfriend/hearthstone%20castle/b1ee40c1.jpg" /></p><p align="center"><br /><br /> <lj-cut text="13+"> <br /><br /></p><p align="center"><img style="WIDTH: 466px; HEIGHT: 417px" height="267" alt="" width="200" src="http://img.photobucket.com/albums/v687/mykittieismybestfriend/hearthstone%20castle/100_1569.jpg" /></p><br />the roof on the porch caves in about 1/2 way around the entire porch around and has taken the porch floor with it <br /><br /><img style="WIDTH: 404px; HEIGHT: 503px" height="267" alt="" width="200" src="http://img.photobucket.com/albums/v687/mykittieismybestfriend/hearthstone%20castle/100_1586.jpg" /> <br />one of the few sections that aren't caved in...what keeps you from actually walking out onto the porch is a few things..1. to the left of the picture is a 20 foot straight drop off. 2. behind you the porch is caving in and the wood it rotting..3 all of the windows on the intact part are strongly nailed shut <br /><br /><img style="WIDTH: 402px; HEIGHT: 337px" height="150" alt="" width="200" src="http://img.photobucket.com/albums/v687/mykittieismybestfriend/hearthstone%20castle/89d3acec.jpg" /> <br /><br />above one of the porch entrances... <br /><br /><img style="WIDTH: 418px; HEIGHT: 460px" height="267" alt="" width="200" src="http://img.photobucket.com/albums/v687/mykittieismybestfriend/hearthstone%20castle/90c6eb81.jpg" /> <br />in the foreground of the picture, there is a 5 foot barrier that keeps you from walking onto the porch, i put my hands over it to take the photo.. <br />one day last may my boyfriend and i were sitting on the granite steps that are at the base of the barrier. we hadnt seen anyone up there that day..all of a sudden we heard a little girl laugh and giggle and push around what sounded like a toy on wheels and then run about 1500 feet...we looked over the barrier and that's exactly what we saw..a bunch of people i have talked to have heard this little girl too. <br /><img style="WIDTH: 398px; HEIGHT: 427px" height="267" alt="" width="200" src="http://img.photobucket.com/albums/v687/mykittieismybestfriend/hearthstone%20castle/100_1577.jpg" /></p><p align="center">&nbsp;</p><br />on the 3rd floor <br /><img style="WIDTH: 410px; HEIGHT: 471px" height="267" alt="" width="200" src="http://img.photobucket.com/albums/v687/mykittieismybestfriend/hearthstone%20castle/100_1576.jpg" /><br />2nd floor over front entrance <br /><img style="WIDTH: 296px; HEIGHT: 363px" height="267" alt="" width="200" src="http://img.photobucket.com/albums/v687/mykittieismybestfriend/hearthstone%20castle/100_1582.jpg" /></div><br /><br /><br /><img style="WIDTH: 342px; HEIGHT: 255px" height="150" alt="" width="200" src="http://img.photobucket.com/albums/v687/mykittieismybestfriend/hearthstone%20castle/100_1585.jpg" /></div><align="center"><br /><br /><img style="WIDTH: 339px; HEIGHT: 225px" height="150" alt="" width="200" src="http://img.photobucket.com/albums/v687/mykittieismybestfriend/hearthstone%20castle/100_1584.jpg" /></div> <br /><br /><img height="400" alt="" width="300" src="http://img.photobucket.com/albums/v687/mykittieismybestfriend/hearthstone%20castle/100_1583.jpg" /></div><br /><br /><img height="400" alt="" width="300" src="http://img.photobucket.com/albums/v687/mykittieismybestfriend/hearthstone%20castle/100_1581.jpg" /></div><br /><br /><img height="400" alt="" width="300" src="http://img.photobucket.com/albums/v687/mykittieismybestfriend/hearthstone%20castle/100_1580.jpg" /></div><br /><br /><img height="400" alt="" width="300" src="http://img.photobucket.com/albums/v687/mykittieismybestfriend/hearthstone%20castle/100_1579.jpg" /></div><br /><br /></div></lj-cut>